We Made A Lightweight Moisturiser For Oily, Acne-Prone Skin
Megan Kelly
Less than 3 minutes / June 14, 2022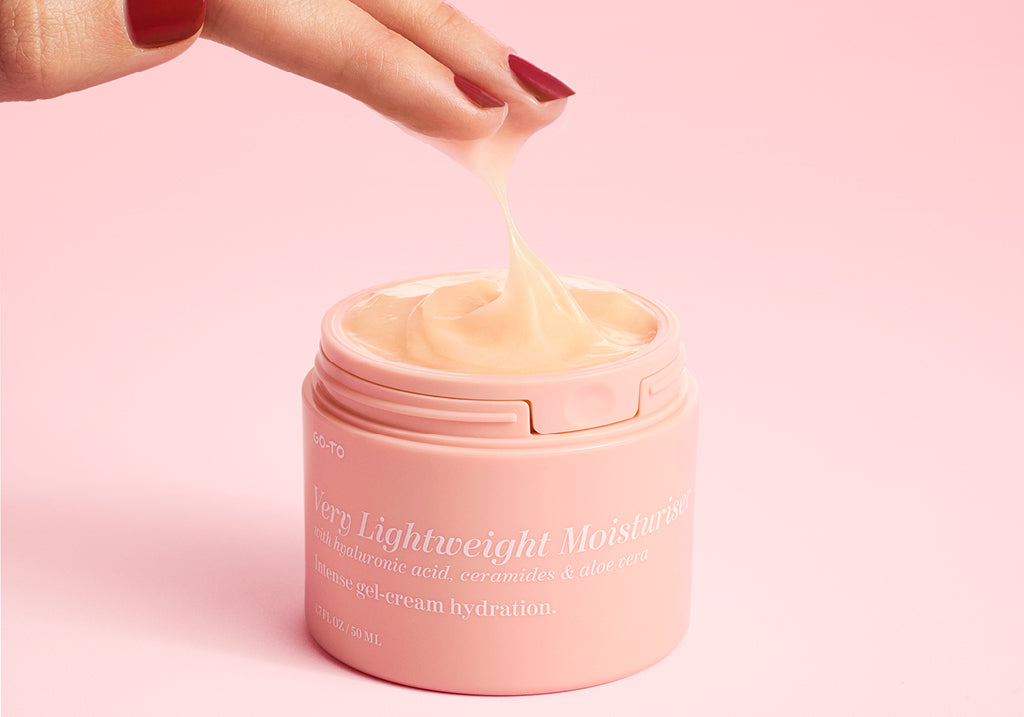 And it's launching today! What fun!
Aptly named Very Lightweight Moisturiser, this gel-cream dreamboat is the second moisturiser to crash the Go-To line-up, and to give her the appropriate welcome, I'm going to give you a run-down of everything you need to know. 
Why Make A Lightweight Moisturiser?
Yes, sure, there's already a brilliant moisturiser in the Go-To gang, and there has been since way back when we launched. The thing is, our first face cream, our best-selling Very Useful Face Cream, was developed for my (thirsty) skin type. It's deeply nourishing; loaded with hydrating oils, lush butters, and antioxidants and is a brilliant occlusive (i.e. a perfect last step to lock everything in). But in doing that, I was ignoring a huge portion of the population. Not everyone needs that level of nourishment. While all skin needs moisturiser, many skin types will benefit from a lighter touch, and I'm delighted to finally be able to offer just that. 
Enter: Very Lightweight Moisturiser. An oil-free, balancing gel-cream for intense hydration without the shine.
Who Would Benefit From Using A Lightweight Moisturiser?
This is for you if you have: 
Oily or combination skin that's prone to excess shine

Congested or acne-prone skin

Teenage skin

Enlarged pores that you want to try and minimise.
In short, this is moisturiser for people who hate wearing moisturiser. This bouncy, airy gel-cream is no lightweight (sorry) when it comes to ingredients. With ceramides to minimise the signs of dryness and dehydration, strengthen the skin barrier and help prevent moisture loss, clover flower extract to regulate oil production and minimise the appearance of enlarged pores, and hyaluronic acid and aloe vera juice for long-lasting hydration because remember oily skin needs hydration too (it's actually very often dehydrated). 
What About The Packaging?
We're delighted to finally introduce you to Very Lightweight Moisturiser for more reasons than just the powerhouse formula. This featherlight face cream is also housed in Go-To's first-ever refillable packaging pod! Which means that when you run out you can purchase a refill pod instead of buying the whole tub again. Our team anticipates this will allow us to reduce the amount of plastic jars produced in a year by over 3000kg. The clever little refill pod has also been made from 80% post-consumer recycled (PCR) plastic.
What Else?
That's it! Very Lightweight Moisturiser is an enormous missing piece of the Go-To puzzle; and we're completely delighted to finally have her join our ranks and your routines. 
Enjoy.