Especially in formulating.
Hello! Let's chat about what you're actually choosing to put on that lovely face of yours when you use Go-To, and why it was made that way.
Our biggest hope is that our products will work for you, that your skin will not only like but thrive with Go-To. We formulate with best-in-class ingredients and our own in-house team of experienced and talented formulators to ensure what you put on your skin is genuinely effective, of the highest quality, and developed with the most stringent safety protocols.
Being an Australian-owned and made brand, we test our products here and under the strictest cosmetic and SPF regulations in the world. You have our word that we enthusiastically work to exceed them every time.
One of the keystones of Go-To is transparency. We are an open book so that you can easily assess for yourself if our products will be useful for you. We provide a full ingredient glossary, fragrance profiles, and INCI list on our website for all products. Go have a lil' peep!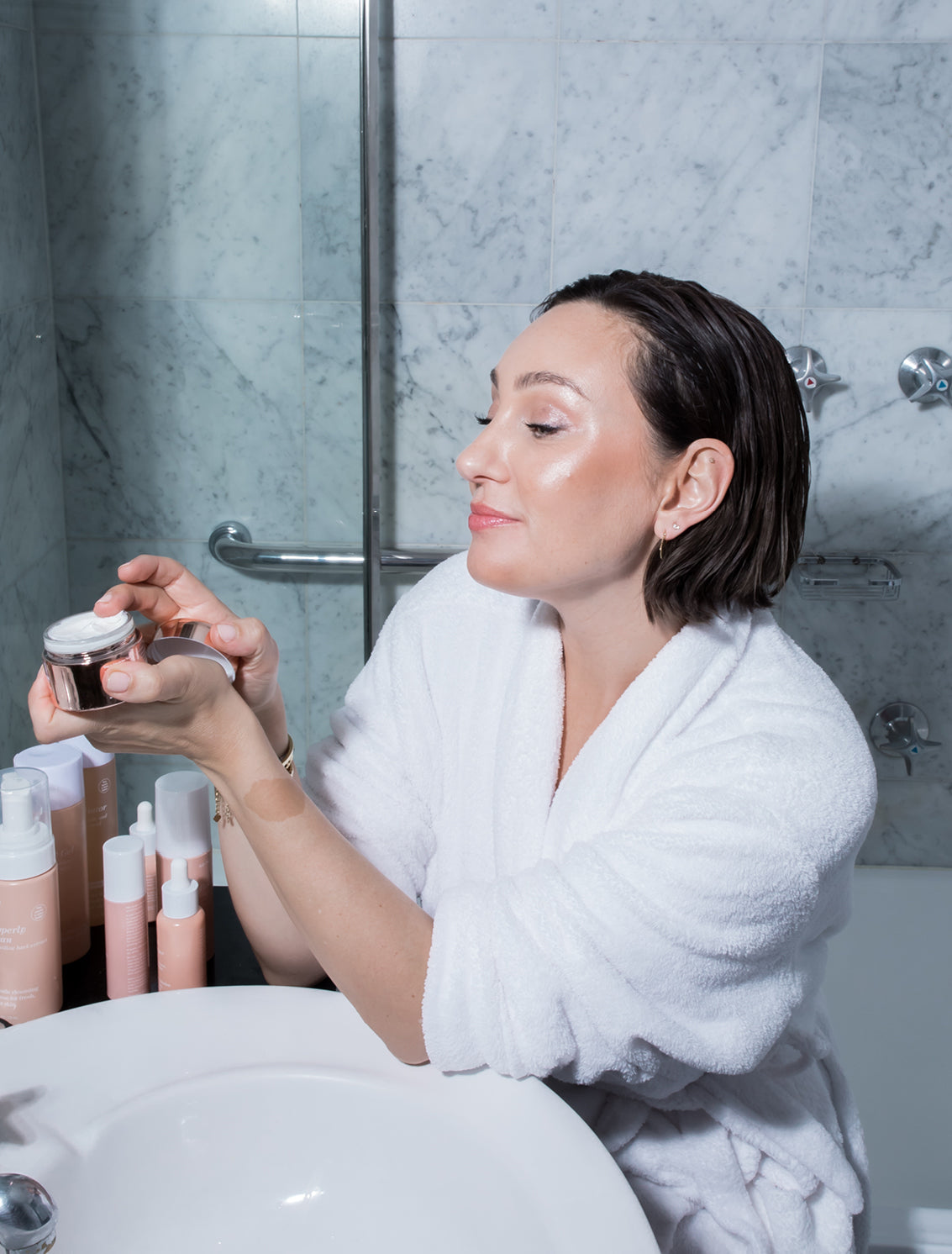 We use the best in science and nature to create useful, effective skin care to optimise skin health. Or in plain English: we make nice stuff to help your skin feel healthy, balanced and calm.
Go-To was developed by a beauty editor back in 2013. As a direct-to-consumer brand, our founder Zoe set out to make products that would be, A) universally useful, B) nourishing and soothing, and C) effective for as many people and skin types as possible. She entrusted a formulator with decades of experience in organic and natural skin care, and asked that he formulate the products to be as effective as they were safe, and remove anything likely to cause rashes, redness or returns. This desire to protect a trusting customer who had no chance to sample Go-To in-store became a core value for Go-To, and a key benefit for customers and their trust in the brand.
Go-To is working diligently to limit our impact on the earth by reducing, reusing and recycling, continually assessing options to ensure that the 2025 Australian Packaging Covenant Targets are not only met but exceeded. We are transparent about this journey, and take our environmental responsibilities seriously. We are working to fully eliminate any ingredients that are made from palm oil, or palm oil derivatives. (We are reliant on a highly complex and frustrating supply chain: read more here.) We will constantly evolve to ensure we are using the most sustainable packaging technology available that we can reasonably use while still offering a stable and safe product to the consumer.
In 2021 all packaging will transition to PCR (post consumer recycled) or glass. We avoid excessive plastic, have deleted all but essential cartons, practice eco-responsibility publicly and privately, and we partner with Reforest now to help Australia regenerate critical rainforest. Go-To has been operating as Carbon Neutral from January 2018 through a Carbon Offset Program with NoC02 until June 2022. In FY23 we partnered with SouthPole to take on a broader journey so we can continue to operate Carbon Neutral while reducing our carbon output wherever possible through intensive reduction plans.
We want to protect skin, nourish it, look after it, and keep that barrier strong. We carry on the experience and research of the scientists and formulators who have gone before us. We are rooted in nature, and we rely heavily on (chiefly Australian) plant and nut oils because we know them to be extremely effective.
We can exclude ingredients that have been shown to be potentially harmful to the body, because to be frank, it's easy to find alternatives that are shown to be less likely to piss off someone's skin. Things like silicones, parabens, PEGs, sulfates (SLS/SLES), GMOs, mineral oils and petrolatum, we leave out. It costs us nothing in terms of sensory, and means more people (sensitive, highly-reactive, compromised skin) might be able to use our products, so it's an easy choice.
Preservatives are essential to keep skin care stable, safe and effective. They prevent bacteria and microbes from growing, which is the very important reason we will always, always use them.We choose mild preservatives with long safety recordsthat are compatible with the skin and offer no or low-irritation to ensure the product you buy arrives in perfect, effective, working order, and we test every product to the highest Australian cosmetic standards to ensure it stays in perfect, effective, working order until the use by date.
'Clean', like 'natural', does not have a clear definition. It is a term used to provide a shortcut for consumers looking for skin care that formulates without ingredients commonly known to (potentially) irritate. (So-called 'nasties'). Being clean can also include things like sustainability and eco footprint.
Go-To fulfills the clean quota set by specific retailers (Sephora, Credo, Detox Market etc) but since clean is an unregulated term, and there is no regulatory board overseeing brands and products, the term is less useful than it seems, which is why we are moving away from the term.
For one, any product or ingredient can irritate anyone. The dose may be the cause. The wrong pH. Using AHAs alongside your retinol can irritate. You might discover you have a reaction to kiwi fruit. A natural or clean formula might irritate just as much as a purely lab-made offering. Also, natural does not infer gentle, safe or effective - tea tree oil is natural and it will burn your dang face right off - and we strive to be those things above all
We make products that stand alone, but can be easily incorporated into routines with multiple actives or treatment programs. Our goal is to bring the skin to good health and maintain it, by keeping it calm, nourished, protected and hydrated. There is a place for this in any skin routine.
Well, to be frank no, because that depends on your skin, not our products. Hormones and genetics play a huge role in skin reactions: it is in the best interest of the consumer to be informed, and brands to be transparent so these reactions are limited.
We cannot formulate to satisfy every customer with a skin allergy, but we can formulate to be as effective as possible, while being as gentle as possible, and with the least amount of ingredients possible. While we try very hard to not piss off your skin, we must keep the balance of efficacy and sensory, too. For example, we love the olfactory association that is created when skincare has a beautiful scent, so we use minute amounts of essential oils in our fragrances. This may be problematic if you have skin that reacts to essential oils. But we use very low amounts, no synthetics, and calming carriers so that most people can use our products without risk of a reaction.
We claim only what we, or our ingredient supplier, has performed clinical studies on.
These products are dermatologically tested to be safe for sensitive skin:
- Very Useful Face Cream
- Zincredible SPF 15
- Fancy Face
- Skin Party
- The Removalist
- Face Hero
- Super Handy
- Bro-To Face Hero
- Bro-To Very Useful Face Cream
- Bro-To Properly Clean
Go-To products are painstakingly formulated to be:
Calming
Thanks to soothing superstars buriti oil, camellia oil, aloe vera, argan oil, arnica and calendula extract.
Brightening
Thanks to glow-boosters niacinamide, Kakadu plum extract, lactic acid and finger lime extract.
Hydrating
Thanks to hydration heavyweights hyadisine, glycerin, and betaine.
Moisturising
Thanks to the magnificent shea butter, jojoba oil, lanolin, rosehip oil and macadamia oil.
Protective
Thanks to supercharged antioxidants CoQ10 and vitamin e.
Clarifying
Thanks to ultra clearing kaolin clay, red clay and willow bark extract.