The Great Go-To Bake Off, At A Glance
11 minutes / April 14, 2023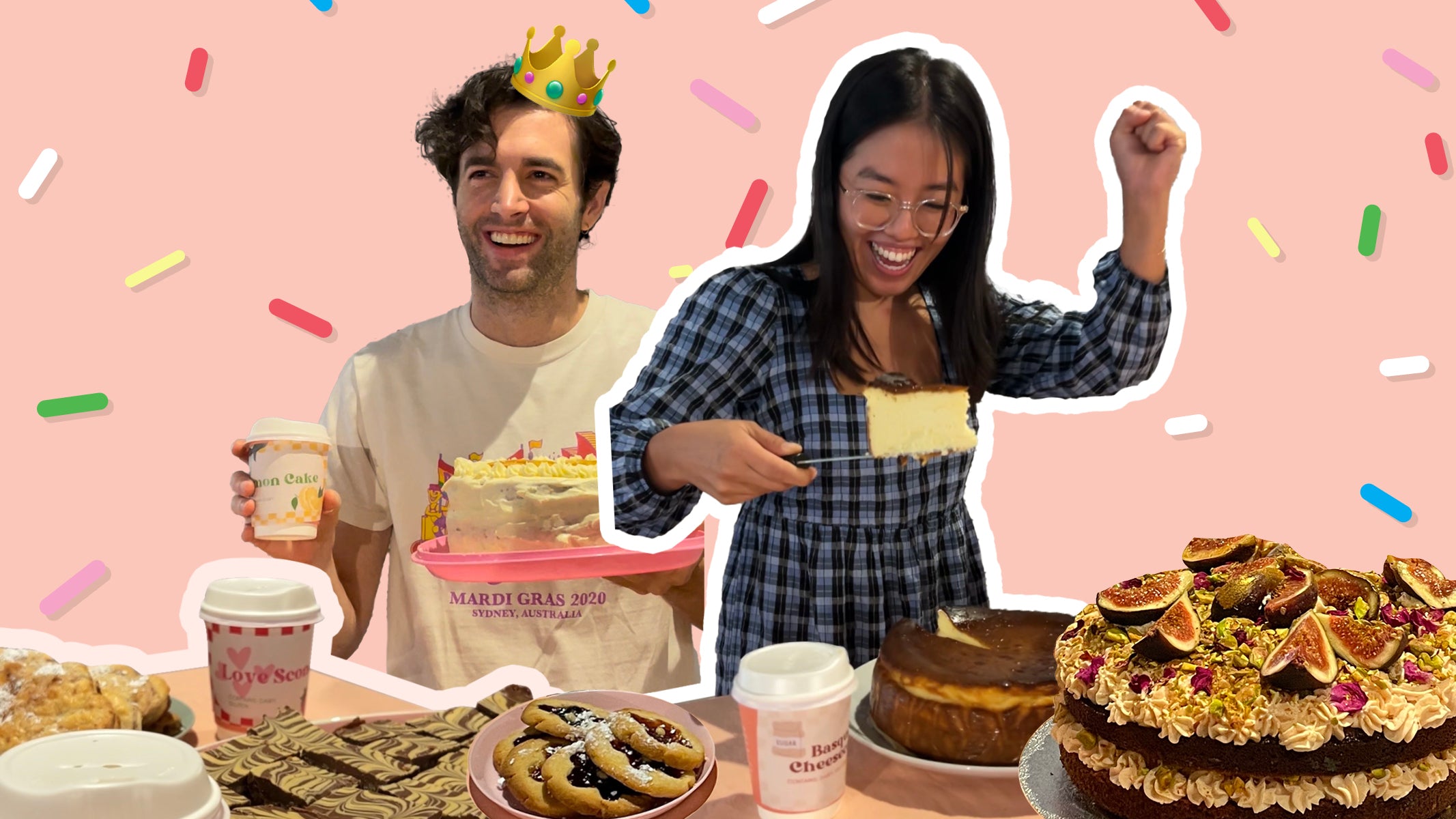 We're really good at a select few things: skincare, puns, handstands. But after last week's affair of spontaneous sweets, The Great Go-To Bake Off, there are a few peach employees that could maybe give our good mate Donna Hay a run for her money. 
Alice's Plum Torte
This New York Times recipe is so loved and delicious that it was shared every year from 1983 until 1989, a signifier for all sweet tooth's that summer has finally turned to fall. 
Ingredients: 
¾ cup sugar 

½ cup unsalted butter, softened

1 cup all-purpose flour

1 tsp baking powder 

Pinch of salt 

2 eggs 

12 plums, halved and pitted 
Method: 
Heat oven to 180°C, then grease a 10 inch springform pan. 

Cream the sugar and butter in a bowl. Add flour, baking powder, salt and eggs, and beat well until combined. 

Spoon the batter into the prepared pan, placing the plum halves skin side up on top of the batter. Sprinkle lightly with  sugar and lemon juice (depending on the sweetness/ripeness of the fruit). Then sprinkle with cinnamon, depending on your penchant for spiced fruit flavours. 

Bake the torte for one hour, then remove and cool completely. Best served at room temperature with plain or whipped cream, or vanilla ice cream. 
"My dad has baked the plum torte for years, and always insisted it was the easiest cake to bake. And it was delightfully simple! Also freezes really well for emergency cake occasions." 
Anna's Brownies
The brownie recipe that boasts crispy edges, fudgy insides, and a rich chocolatey flavour. They'll fly off the plate quicker than you can say "so moist". 
Ingredients:
1 ½ cups sugar 

¾ cup all-purpose flour

⅔ cup cocoa powder, sifted 

½ cup powdered sugar, sifted 

½ cup dark chocolate chips 

¾ tsp sea salt 

2 large eggs 

½ cup canola oil 

or

 extra virgin olive oil

2 tbsp water 

½ tsp vanilla essence
Method:
Preheat the oven to 180°C, then grease a 9x9 inch dish and line it with baking paper. 

In a medium bowl combine the sugar, flour, cocoa powder, powdered sugar, chocolate chips, and salt. In 

another

 bowl whisk together the eggs, olive oil, water, and vanilla. 

Sprinkle the dry mix over the wet mix and fold until combined. 

Pour into the prepared pan - she'll be thick! - and use a spatula to evenly spread the mixture. Bake for 40-48 minutes(ish) until a toothpick comes out with only a few crumbs attached. It's better to pull them out early than leave them in too long. 

Cool completely before slicing and store in an airtight container for up to three days. But let's be honest, they'll be consumed 

way

 before then. 
"I used slightly more sea salt because that's how I like it, so you do you! It's also super easy to sub in dairy free alternatives, and it actually makes the recipe richer."
Bella's Butterboy Cookies 
Why create your own cookie when there are so many chewy, chunky, chocolatey batches being baked daily by professionals. They, like Butterboy, exist in a league of their own. So cheat the system and snag a pre-made roll of dough. Simple!
Ingredients:
Functioning kitchen

Sharpened knife

$24
Method:
Drive/walk/sail to Shop 9/74-78 The Corso, Manly, NSW, 2095.

Approach the counter and ask the kind lady for "one scroll of Snickerdoodle cookie dough, please". (Or any other flavour that tickles your fancy.)

Grab an iced latte for sustenance. 

Head home, preheat the oven to 160°C, limber up, evenly slice cookie dough. 

Arrange cookies on a lined tray and bake for 12 minutes. 

Bwaaan-appa-tee!
"I found it fairly challenging to not inhale the entire roll of cookie dough before it made it in the oven. If, like me, you struggle on the self-control-around-snacks front, I recommend eating an enormous lunch prior to baking to help manage the urge."
Cynthia's Basque Cheesecake
Aptly crowned the alter ego to the classic New York cheesecake, this guy wants to get burnt, cracked and cooked at a high heat (so ultimately, it's hard to stuff up). 
Ingredients: 
900g cream cheese, room temperature

1 ½ cups sugar 

6 large eggs 

2 cups heavy cream

1 tsp kosher salt

1 tsp vanilla extract

⅓ cup all-purpose flour
Method:
Place a rack in the middle of the oven, and preheat to 200°C. Butter 10 inch pan, then line with two overlapping sheets of baking paper (making sure it comes at least 2 inches above the pan on all sides). The paper will pleat and crease in some areas so you won't have a smooth outer edge to the cheesecake but that's okay! Rustic! 

Beat cream cheese and sugar in the bowl of a stand mixer fitted with a paddle attachment on medium-low speed, scraping down sides of the bowl, until very smooth and no sugar-y lumps (about two minutes). 

Increase speed to medium and add eggs one at a time, beating for roughly 15 seconds before adding the next. 

Pour batter into the prepared pan. Bake cheesecake until deeply golden brown on top and very jiggly in the middle (about 60-65 minutes). 

Let it cool - resist the desire to eat, at all costs! And know that it will fall drastically as it cools, so don't fret, you didn't do it wrong. 

Slice into wedges and serve at room temperature. You might just come 2nd at the office bake off! 
"I used a tin that was too small, so she was taller than intended, but if you're into larger and creamier serves I highly recommend this accidental hack."
Georgia's Mars Bar Slice
A childhood favourite that's pretty well unfailable. Hence why it was the centerpiece of so many backyard-trestle-table-birthday spreads. If you didn't experience this kind of sugar high we feel a little sad for you.
Ingredients: 
5 (47g) Mars Bars, finely chopped

60g unsalted butter

1 tbsp maple syrup (optional) 

3 cups Rice Bubbles

300g milk chocolate

50g Caramilk/white chocolate (optional) 
Method: 
Combine Mars Bars and butter and maple syrup in a medium saucepan over low heat. Cook, stirring until mixture is smooth.  

Place rice bubbles in a large bowl. Pour in Mars bar mixture and stir until combined. 

Line a 20x20cm tin with baking paper and pour in the combined mixture. Press into tin tightly.

Melt milk chocolate and pour over rice bubble mixture to evenly coat. 

Optional: Melt Caramilk/white chocolate and drizzle horizontally over base chocolate (whilst still melted). Drag a knife/skewer across the lines vertically to create a swirl-like pattern.   
"My Mum has been making Mars Bar Slice for years! But I couldn't find the recipe (ie. I wasn't bothered to look through multiple crafty cookbooks to find it) so I followed the queen, Amy Gerard's recipe instead." 
Ingrid's Persian Love Cake
If anyone knows how to create a delicious, flamboyant, and gorgeous looking cake, it's Sydney's own Katherine Sabbath. Her quirky personal style translates to cutting edge flavours and designs you can drool over with every scroll of her Instagram; this Persian Love Cake being a top contender. 
Ingredients: 
Batter
200g unsalted butter, cubed

200g good quality white chocolate, chopped

150g (3/4 cup, firmly packed) dark brown sugar

250 mls (1 cup) hot water

2 tablespoons golden syrup

2 teaspoons vanilla extract

2 large, free-range eggs, at room temperature

150g (1 cup) self-raising flour

180g (1½ cups) almond meal

2 teaspoons cinnamon

1 teaspoon ground ginger

1 teaspoon ground cardamom
Cream cheese filling
500 grams cream cheese, softened

250 grams mascarpone, softened

100 grams butter, softened

150 mls thickened cream, whipped

125 grams icing sugar (1 cup), sifted

½ teaspoon rose water

3-4 drops pink food colouring or natural colouring extract
Toppings
1 cup crushed pistachios

¼ cup food-grade dried rose petals

¼ cup crushed pink meringue

3 fresh figs, sliced (or you could leave them whole, if you prefer)
Method:
Preheat your oven to 160°C. Grease a round and deep 17cm spring-form cake pan with melted butter or spray with cooking oil, then line base and side with non-stick baking paper.

Place butter, chocolate, sugar, water, golden syrup and vanilla in a heavy-based saucepan. Stir ingredients over medium-low heat with a rubber spatula for 5 mins or until chocolate melts completely and your mixture is smooth. Set aside for at least 20 mins to cool.

Next, add the eggs, 1 at a time and beat in well by using a hand-held electric mixer. Sift flour and spices over your white chocolate mixture and mix in until well combined. Next, fold in almond meal until well combined.

Pour cake mixture into pan and bake for 50-60 mins or until a wooden skewer comes out almost clean. Stand cake in pan for at least 2 hours before turning onto a wire rack to cool (TIP: You can speed up the process by resting your cake in the refrigerator, covered with a clean tea towel for an hour or so). Once completely cooled, use a long thin knife to carefully slice cake into 3 even layers. Cover cake layers and set aside in fridge until cake assembly.

Use an electric mixer to whip together cream cheese, mascarpone, butter, icing sugar, rose water and food colouring until pale and fluffy.

Gently fold in whipped cream until combined and set filling aside until needed. TIP: If your filling appears to be too soft to pipe neatly into your cake layers, leave to rest in the fridge for 15-20 minutes in order to firm up the mixture to a more workable consistency.

Working on a cake turntable (it makes life easier!), secure the bottom layer of your spiced caramel and almond cake onto a 9 inch cake board/plate using a smear of rosewater cream cheese filling. Next, fill a pastry bag lined with a star-tipped nozzle with rosewater cream cheese filling. Starting from the outside edge, pipe filling onto cake layer until completely covered.

In between filling and carefully stacking each layer, be sure to give a generous sprinkling of crushed pistachios and meringue between each to provide a delicious hidden crunch.

Once the layers are assembled, adorn the top of the cake with remaining crushed pistachios, crushed meringue, a sprinkling of freeze-dried raspberries, a scattering of rose petals and slices of fresh figs. Add a decadent lustre to your cake and fig slices by decorating with gold leaf and gold dust.

Best served at room temperature and shared with your most favourite people.
"The topping for this cake is limited only by your imagination. When in season I'll top it with figs, but it's equally beautiful with just pistachios and rose petals and I've seen versions with strands of persian fairy floss that look very whimsical. To make things easier I also only made a two tier version but if you have the time the three tier is sure to impress everyone even more!"
Matt's Lemon Layer Cake 
Enveloped with lemon cream cheese buttercream and garnished with whipped cream. Sounds tricky, but know that it's easy enough for a first-time baker (like, Matt!) to attempt. And take out the baking crown!
Ingredients: 
Batter
3 cups all-purpose flour, sifted

2 ½ tsp baking powder

½ tsp baking soda

½ tsp salt 

1 cup unsalted butter, softened to room temperature

1 ¾ cups sugar 

3 large eggs 

2 tbsp vanilla extract

1 cup whole milk

1 (heaped) tbsp lemon zest 

⅓ cup lemon juice
Buttercream
1 cup unsalted butter, softened to room temperature

220g cream cheese, softened to room temperature

4 ½ cups icing sugar

2 tbsp lemon juice

1 tsp vanilla extract

Pinch of salt to taste 
Method:
Preheat the oven to 180°C, then grease three 8 inch round cake pans and line with baking paper. 

Whisk the flour, baking powder, baking soda, and salt together, before setting aside.

Using a mixer, beat the butter and sugar together on high speed until smooth and creamy (about, 3 minutes), scraping down the sides of the bowl. Add the eggs and vanilla and beat again until combined. 

Switch the mixer to low speed and add the dry ingredients, followed by the milk, lemon zest and lemon juice (you may need to get in there with a hand whisk and make sure there are no lumps lurking at the bottom of the bowl). 

Pour batter evenly into the 3 prepared pans, baking for 25 minutes or until baked through (if a toothpick comes out clean, she's cooked!). Allow cakes to completely cool before frosting and assembling. 

While the cakes are cooling, onto the frosting! Beat the butter and sugar on medium speed until light and fluffy. Add cream cheese and beat again until smooth. Then go in with the sugar, lemon juice, vanilla extract and bring it all together. 

Using a serrated knife, slice a thin layer off the tops of the cakes to create a flat surface. Discard (or nibble on whilst you assemble!). Place one cake on the stand and evenly coat in 1 cup of frosting. Add the second layer and follow suit, then the third. Any remaining frosting can be wrapped around the sides. 

If you're feeling fancy, pipe some whipped cream on top!

Refrigerate for 30-45 minutes before slicing as this helps the cake to hold its shape while you cut for your million hangry colleagues. 
"The best thing I did was buy an oven thermometer. It was $3 from the dollar shop and it made me realise my oven runs hot. Without it I probably would've over-cooked my cake!"