Michelle Hu On Starting A Business and The Women Who Inspired Her Journey
Less than 3 minutes / March 09, 2022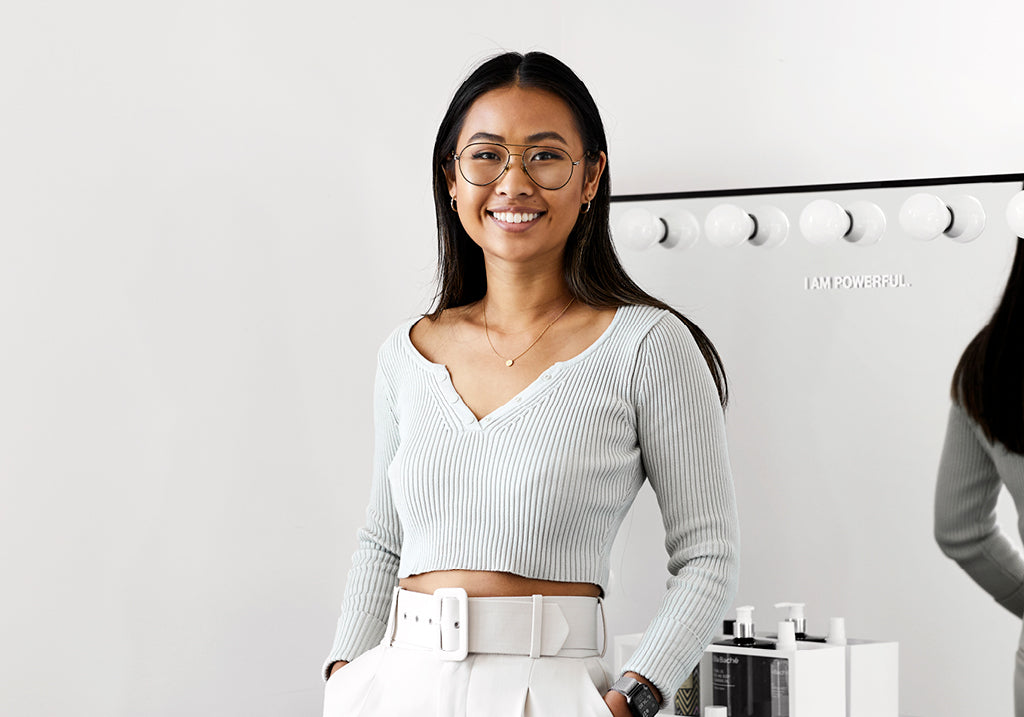 Earlier this week the world celebrated International Women's Day! And we can think of no better week to celebrate fellow female-owned businesses that we think you need to know about. So, we sat down with founder of Etoile Collective, Michelle Hu, to get her secrets on starting your own business and the women in her life that have inspired and enabled her to succeed.
Have a read, pick up a tip or seven, and if you want to find other female-founded businesses to support and celebrate, you can find our round-up riiiight here.
Tell us about yourself and Etoile Collective.
Hello! I'm Michelle and I'm behind the beauty accessories brand Etoile Collective. I like to think of Etoile as the conduit between your first touchpoint to beauty (purchasing fun new products like Face Hero) and that post-routine glow. For me at least, back in 2016, that in-between process of storing products, finding them and the physical space where I'd get ready in, used to be chaos. So I built Etoile to make people's beauty process and routine more enjoyable. Our product range includes thoughtfully designed organisers, vanity mirrors, super functional travel cases and ring lights.
Me? I'm a huge foodie, love pop culture, spend way too much time on Tik Tok, and L-O-V-E a good Colleen Hoover read. My favourite so far is It Ends With Us. Also a big dog person - there's not much I love more than my 2 Chow Chows.
What inspired you to launch your own brand?
I was fed up with using the floor and my mirrored chest of drawers as the place I'd do my makeup and skincare routine! I really wanted the process of getting ready to be enjoyable and a time in my day that I looked forward to.
Talk us through the process of starting your own brand. How long did it take to perfect the products?
As our initial range of products were to fix a problem I was facing personally, it turns out I had already developed the range before even starting the brand. As I couldn't find anything in Australia and was very picky about what I wanted, I was already speaking to manufacturers to make one-off designs. And so, when I had zhuzhed up my own space and decided to turn this into a brand, the products were already there. Then I just had to get all the business admin done, create a website (thank you, Shopify, for making it so easy) and off we went with posting vanity and organisation inspiration on Instagram. Thankfully, people loved seeing that content and started tagging their friends.
What was the best advice you received when starting out?
To dig into your network and ask for help when you need it! I cannot count how many times a cold message or DM on LinkedIn, Instagram, and Twitter has helped us.
What would be your advice to other aspiring founders?
To find a tribe of other founders on a similar timeline to you who are going through the same problems. You'll feel less alone in a journey that can really test your resilience and strength.
Who are the women in your life that have inspired you?
My mum! For being the greatest example of how to show up everyday to the people around you and be positive. My friend Anaita behind @sellanythingonline who continues to forge her own path and help hundreds of other small business owners. And my old manager from when I used to work in finance, Katrina, who showed me how to effectively lead with kindness and compassion.
What's next for Etoile Collective?
We've just launched Etoile in the US and I've also relocated to New York to give it the best chance of success... So global domination?! Ha!
Want to hear more from Michelle? (Duh.) Find her on Instagram here, or head right over to Etoile Collective.