A Note From Zoë: Go-To Turns 9!
Zoë Foster Blake
Less than 3 minutes / April 14, 2023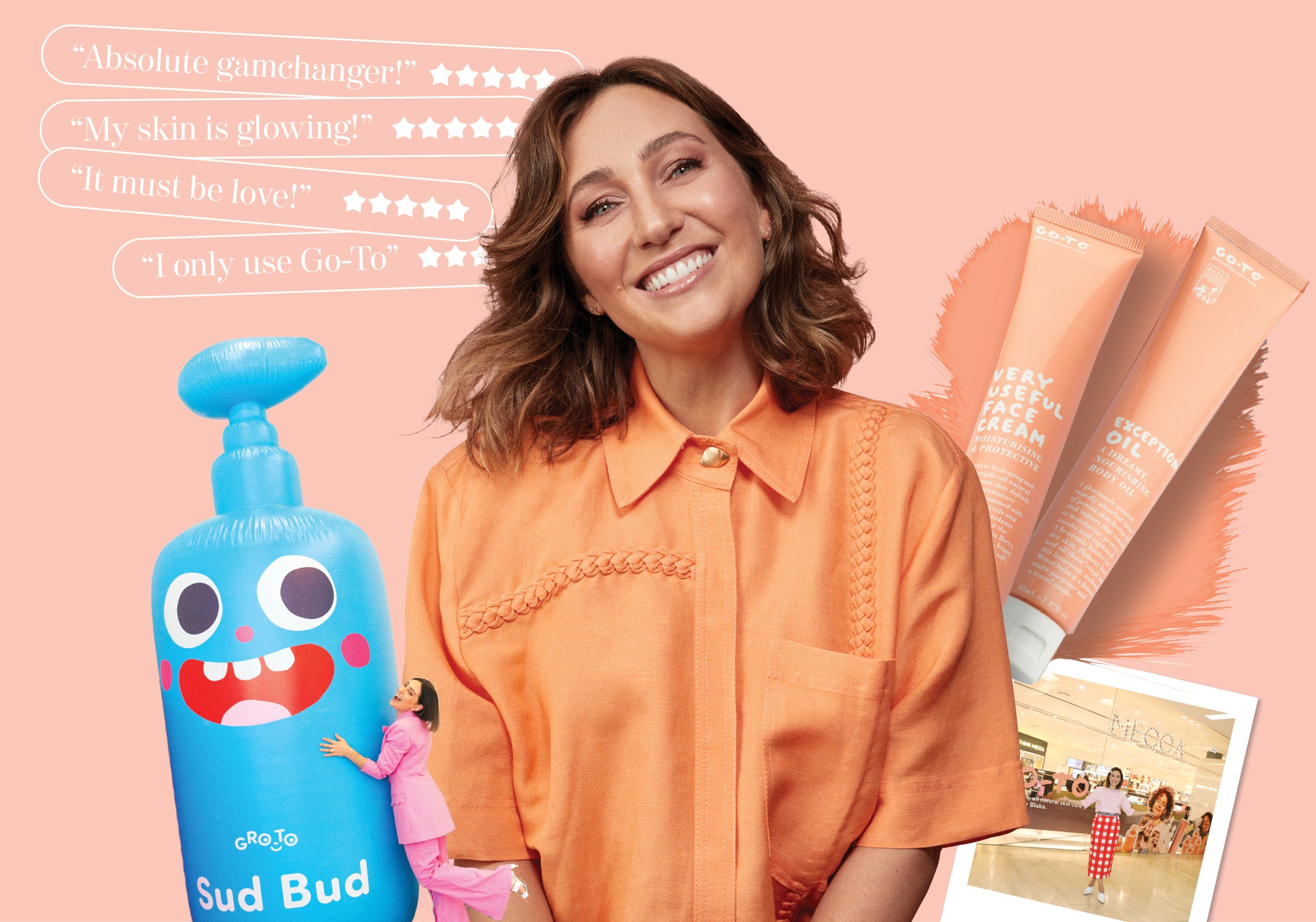 Turning nine and feeling fine. That's us. We've found our rhythm, we're in flow, we are proud of what we've achieved, and we're extremely pumped to do better, always. (Also we are totally going to laser tag and pizza hut with our four best friends this weekend.)
It's hard to narrow it down from 278,903 but here are nine of my Top Shelf™ Go-To memories:
2014: Launching the brand on April Fool's Day back in 2014, to the genuine confusion of the press, who weren't sure if I was kidding or not. 

2019: Seeing Mecca windows all over Australia and NZ gloriously covered in Go-To products when we launched in-store.

2015: Sending customers custom whole cakes with their faces on them to thank them for their support. (Keen to do this again: 

be ready.)

2019: Launching Gro-To in the USA with a 15m high inflatable Sud Bud.

2018: The peach truck, manned by our wonderful team, who travelled around Australia handing out Go-To samples and coffee.

2014-now: Seeing Go-To in the wild: next to the cashier's water bottle at Coles, by the pool at a hotel, in the toiletries bag of a fellow passenger on a plane…

2022: Giving away a CAR. A car!

2014-now: Reading feedback from customers who have found peace in their skincare and skin after using Go-To.

2016: Kylie Jenner posting Exfoliating Swipeys on her IG stories, which 

finally

 earned me the respect of my friend Abbie.
Illegal #10: Giving away terrifying amounts of Go-To on our birthday every year! *RnB horn*
E.g: This year's $30k giveaway. We love to do it! We wanna celebrate you! There is no us without you! Sounds like a bad song lyric; is genuinely how we feel. You keep us motivated, inspired and passionate to Do Good Work. Thank you for the last nine years of support. And if you've only bought from us once, and it was a Kris Kringle gift, and you've never found time to unsubscribe from the emails: we love you anyway.
Like many founders, I had no idea how this whole Go-To thing would pan out. In 2012, I saw a gap in the market for simple, foolproof, effective skincare, and was optimistic and naive enough to try and fill it. I couldn't imagine I'd be here 11 years later, taking up your precious time and inbox with my waffle.
Anyway! It's an honour and privilege to look after your skin!
I want to thank the Go-To team, who wholeheartedly inject their magic, talent and care into the company every single day!
Go enter the comp whydonya!
Yours in glow,
Zo x