Meet The Dermal Therapist About To Answer All Your Skin Care Questions
4 minutes / September 15, 2021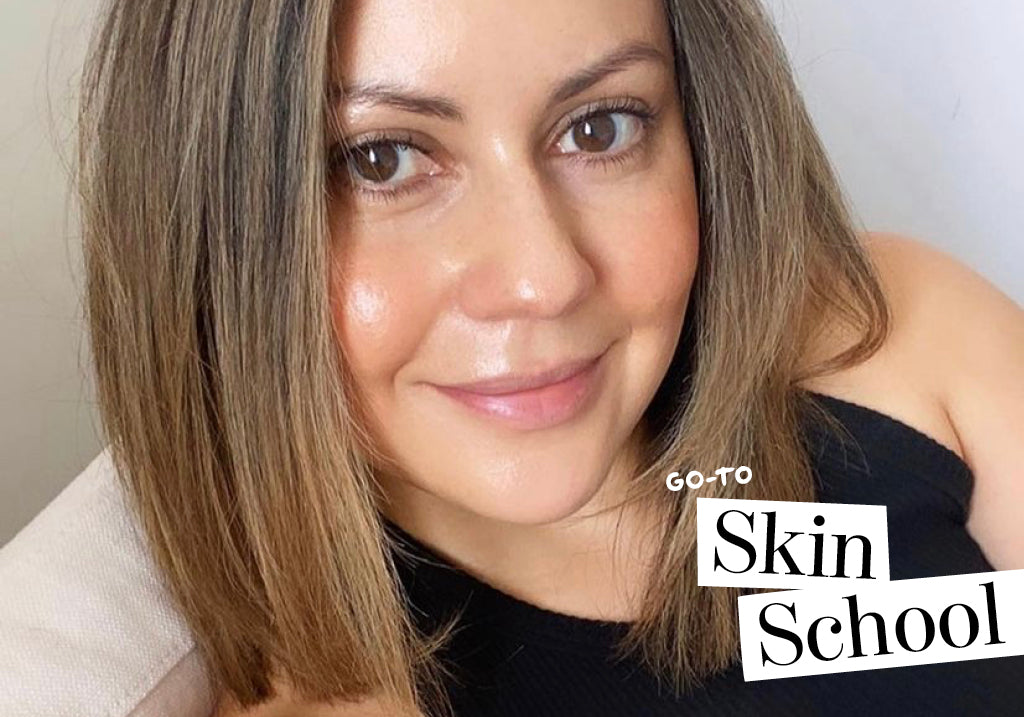 For the last few years Skin School has been a cosy corner on the Go-To Blog where we talk all things skin. Now, it's getting a second, more Instagram-y home.

Twice a month, a skin care expert will answer all of your most asked questions over on our Instagram Stories. The inaugural Skin School Q&A kicks off over here tomorrow, but before then, we want to introduce you to the first skin wizard who will be answering all of your Qs, Dermal Therapist and Beauty Journalist, Yadira Cauchi. Over to Yads!

Hi Go-To fam! My name is Yadira Cauchi (Yads for short, also: many mis-pronunciations always). I am a Beauty Journalist and Dermal Therapist and I have a pretty big obsession with skin (and eating potatoes) (but mostly skin). Anyway, I am very excited to be introducing myself, I love sharing skin care tips and I can't wait for us to go on many skin dates together.
You see, I've been working in the beauty industry for almost 10 years and while I started my career in media way back when magazines were a thing and TikTok hacks were not, I basically fell in love with skin in the same way Kourtney Kardashian fell in love with Travis Barker. So I studied to be a Dermal Therapist and now I kind of combine my beauty writing with in clinic work and spend the rest of my time as CEO to three unruly dictators who I have birthed.
Anyway, you may have seen my name popping up and around Go-To's pages because I am die hard fan of the brand, products and love working with this team to make skin care fun, less confusing and accessible. So the fact that I am getting to write this is a dream. *Pinch me!*
The beauty industry is honestly a great place to work. And if you, like me, spend a lot of time dissecting celebrity routines and yelling at YouTube videos when celebs add a serum on top of a moisturiser like you're watching a sport, then maybe a professional job in the beauty industry is for you too. I very much recommend it. Follow your dreams, follow your passions and if you need a pep talk just listen to Gary Vee. He = great mojo. And while yes, he is not beauty related in any shape or form, I just love him, his business ethics and yes, I would like to peek into his skin care routine. (Although, I doubt he has one.)
Moving on...creating fun, educational, easy to understand skin care content is my jam. I love helping people achieve glowy, healthy skin too. It's the most rewarding thing about my job. Honestly, skin care doesn't have to be hard or confusing! And that's how I'm going to be working with Go-To. To help you. But first let's do a fun skin Q and A to get to know each other a little better. Sound off with your own answers or any questions down in the comments.
My favourite step in my skin care routine?
*Siri remove my makeup*.... Cleansing is very important and while yes, most nights I do feel like it's a bit of an effort as I try and put my three kids to bed (who semi resemble drunk people at the end of a night out). Cleansing will change the game for your face if you do it correctly! I am a big advocate for this step. It is not a nothing step and yes it is my favourite step in my skin care routine.
The biggest mistake I see people make with their skin care?
Easy. Overusing their active ingredients or confusing themselves by buying too many products. Another very common mistake is when people buy the strongest strength products thinking it will always = better. Hint: it doesn't. Skin care is not a sprint, it's more of a leisurely jog that goes forever….which sounds like an intimidating analogy... but I promise it's way more fun.
What's the skin care myth that annoys you the most?
I talk about this a lot but I hate when celebs say that all they do is drink water for clear/hydrated skin *screams internally*. Adequate water intake is great for our overall health don't get me wrong but if it were that simple we could all just drink water and have hydrated healthy skin. Sadly though, it's not that simple. Topical skin care ingredients are always needed if you want to properly hydrate your skin.
What's your holy grail Go-To product?
Transformazing Sheet Masks hands down. Pre-makeup for an event. After a sleepless night when you might feel like your eyes will fall out of your head from sheer exhaustion. Or even just for funsies because you're in lockdown and what else is there to do?! These sheet masks always = glowy, hydrated, healthy skin. Actually, if I'm being really honest, these sheet masks are as important to me as my birth certificate.
What's the best skin care advice you've ever heard?
Do what is best for your skin. Not an influencer's skin. Not what your GF is doing. Focus on your own skin and learn to listen to it. And yes, the whole "listen to your skin" might sound woo woo and very Gwyneth. But I'm very serious about it and we can chat about it more in the months to come.
Do you have a favourite skincare ingredient? If yes, what is it?

Of course I do. It's Vitamin A. I wrote a love letter ("educational guide") to it right here. Naturally when you are pregnant/breastfeeding this is an ingredient that people recommend you avoid. So now that I'm done growing/birthing humans my body is around 99% Vitamin A - I honestly missed it so much.