An AM Routine To Fade Post-Maskne Hyperpigmentation
Megan Kelly
Less than 3 minutes / September 15, 2021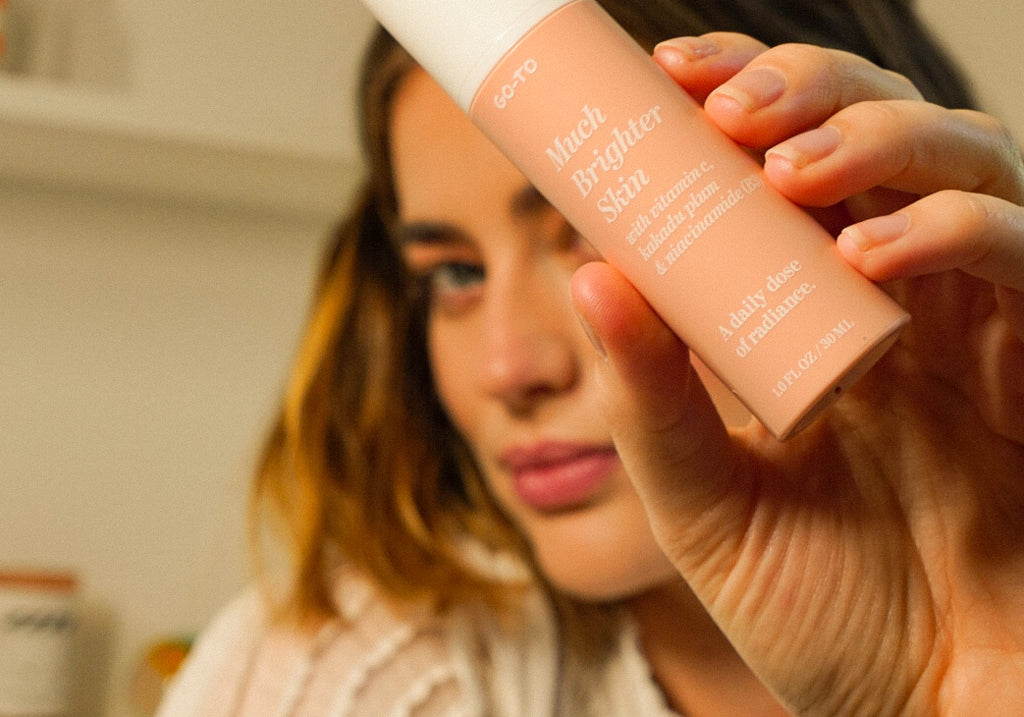 This article was created as part of a paid partnership between Go-To (Hey! That's us!) and Ali Whittle. All answers and opinions shared are her own. (Even the one about The White Lotus being better than Nine Perfect Strangers*.)
Get Up And Go invites clever, fun, delightful members of our Go-To community to take us with them on their morning routine, sharing their go-to tips, products, and favourite pancake toppings as they go. Today, we're getting up with content magician and owner of two adorable cats, Ali Whittle.
The Life Stuff
"Hi! My name is Ali, I live in Sydney but I'm originally from Geelong/Melbourne. I work for myself, creating content. I'm beauty obsessed. I love skin care and a glowing, natural looking makeup. My love for beauty started as a hobby and I've been able to turn my passion into a career! A lot of my content centres around beauty with bits and pieces of fashion and now more home and furniture/interior content as my husband and I recently bought our first home! Finding, buying and then moving and settling in has been a main focus for our year. It's been incredible! So my content has reflected that.
Aside from work I love walking, running, listening to podcasts, cuddling my cats, Pickle and Scout, Facetiming my family and friends (thanks to Sydney's lockdown), reading, cooking (but also ordering UberEats), perusing furniture websites/pinterest pages and binging pretty much any Bravo reality TV show.
[My day] usually starts with my husband bringing me coffee in bed. We might have a quick chat about the day and then I'll jump on my phone and check in on any news or work stuff that may have happened overnight. Each day is different. I may have lots to shoot, or I may need to smash out emails/admin. Maybe I'm out of creative juice and need some down time. Or maybe I've got 20 burning ideas that immediately need to be put into action. I love working for myself and being in charge of my days. It's incredibly rewarding and fun to have lots of different things happening and new opportunities popping up.
I used to love a sleep-in but in the last five years or so I've become an early riser. Although Sydney's lockdown has seen my routine fly out the window and I'm going to bed later than normal and waking a bit later. Trying to work on that.
Coffee (!!) and skin care, especially SPF are my must-have morning rituals. The essentials. I used to go for a walk every single morning but in lockdown I'm walking at random times throughout the day which keeps things fresh and exciting. Switching up these things helps to make days feel different when they came feel so same, same in lockdown.
The Beauty Stuff
"My skin is combination. Skin concerns are keeping congestion/texture at bay, more brightening and keeping my skin hydrated, firm and healthy!
First I use a gentle cleanser, an essence, and eye cream. My routine changes but most mornings this is Habitual Beauty Balancing Gel Cleanser, Estée Lauder Micro Essence, and Murad Vita-C Eyes Dark Circle Corrector.
Next up is Much Brighter Skin. I not only apply it on my face but also my neck and chest - those areas need love too! We can't forget them. The immediate result is glowy skin. After weeks of use, [my skin is] looking much brighter, healthy, and it's helped to fade some hyperpigmentation left over from a few maskne and hormonal breakouts.
I love the texture! It's a light gel consistency and it just glides onto my skin so beautifully. It feels amazing and once it hits the skin it absorbs and leaves a lovely glow. I also really love the scent, which isn't always the case in skincare, some scents really put me off.
Pending how my skin feels, maybe a hydrating serum is needed, then moisturiser and SPF50+ (Ultra Violette's Supreme Screen).
For me, it's all about getting a great night's sleep which makes kicking off the morning that much easier. So my advice is to try and get your sleep right, create a routine and get as much sleep as you need to feel great in the morning, ready to tackle the day. And COFFEE!!!"


*Lie but maybe true.