How can a conditioning cleanser help your kid's hair?
Less than 3 minutes / May 30, 2023
Kids! They're adorable and fun, but they're also grubby and whiffy, with unidentifiable filth in their hair. That you need to wash. Before you grab a sudsy shampoo, here's why you should consider the benefits of a nourishing conditioning cleanser…
How does our conditioning cleanser work?
Efficiently! We know most kids aren't the biggest fans of hair washing (or broccoli) so we created Two-in-Fun to get the job done, fast. Unlike lots of traditional two-in-one hair products, which can be really drying and sulphate-heavy, Two-in-Fun works as more of a conditioning cleanser, with wheat proteins to strengthen, and aloe vera leaf juice and vitamin E to care for the scalp. Our clever formulations team added lightweight conditioning ingredients to the product's gentle cleansing action, to create a one-and-done wash that would cleanse the scalp without stripping natural oils or moisture from the lengths and ends.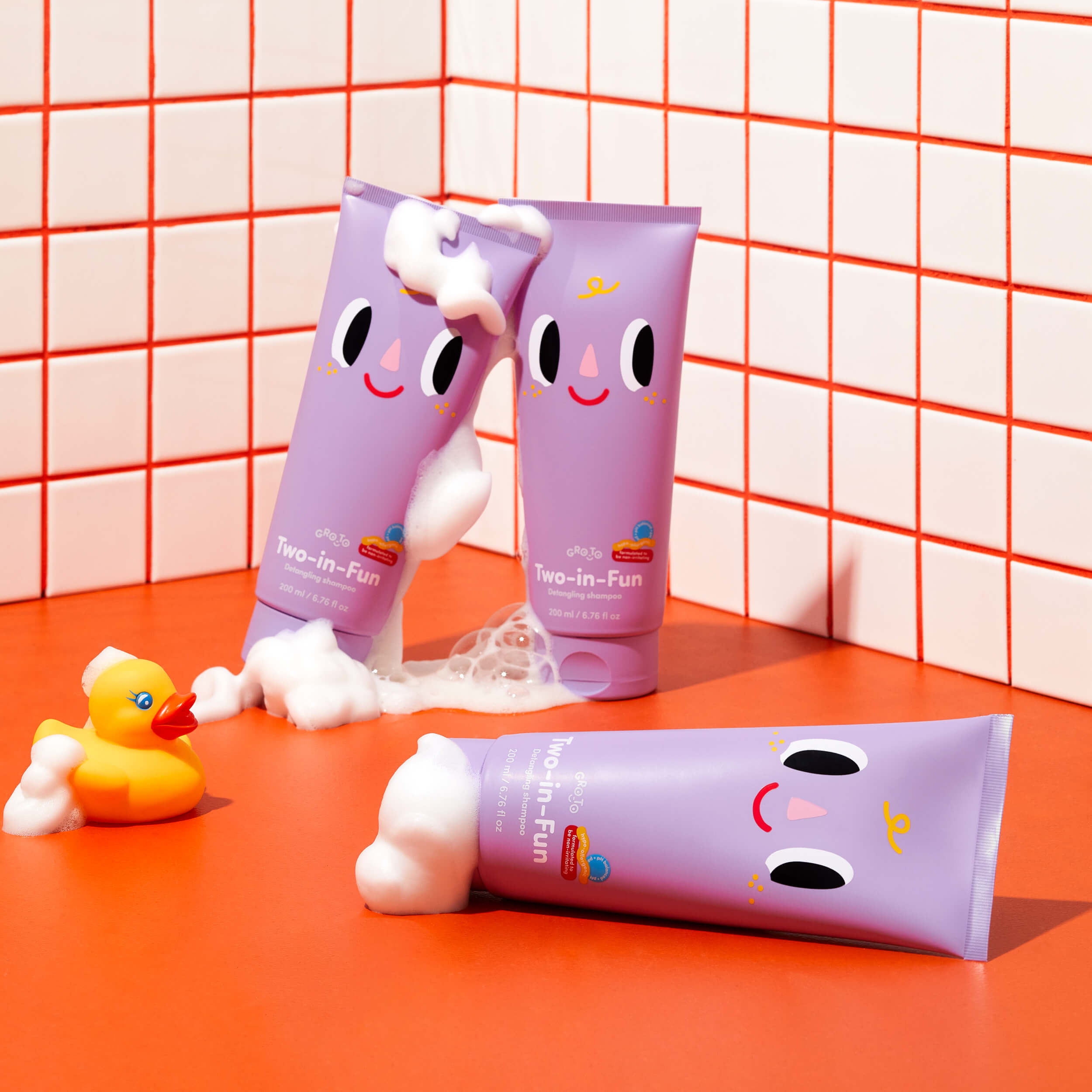 200 G / 6.7 OZ
A super speedy detangling shampoo that conditions while it cleanses. With wheat proteins to strengthen the strands, and vitamin e and aloe vera to care for the scalp, Two-in-Fun leaves unruly mini mops silky, soft and easy to comb. Massage into the scalp, mid-lengths and ends, then rinse out thoroughly.
Who should use it?
Kids (little or big!) with fine, curly, thick, knotty, mud-covered hair can all benefit from Two-in-Fun – but because it's a conditioning wash, it's especially excellent for curly, wavy, tangly hair that can be drier and doesn't play nice with surfactants. Our formulators were very choosy about the plant-based ingredients they packed into Two-in-Fun – each one has been carefully chosen to keep the wash lightweight (so fine hair won't be weighed down), but also to hydrate and nourish, and care for sensitive young scalps.
What's the best way to wash with it?
How much product you use will vary, depending on your child's hair volume/type/grubbiness, but as a guide: we'd suggest using Two-in-Fun as you would a conditioner. (Start with less is more. And build from there, as needed!) It's gentle enough to use daily, and if you're not sure about how often you should be washing your kid's hair, hop over to this post for some useful info.
To wash, start by wetting the hair and head, then massage into the scalp, working your way down the mid-lengths and ends. Finish by rinsing out thoroughly to prevent any pesky build-up. Because Two-in-Fun is a conditioning cleanser (with no harsh irritants or harsh foaming agents) it won't lather up the way a regular shampoo might, but it will leave your kid with hair that's soft and easy to comb, with no need for detangling sprays. Nice!