I Went To Zoë Foster Blake's Facialist, And This Is What Happened
Ailish Ryan
4 minutes / August 21, 2023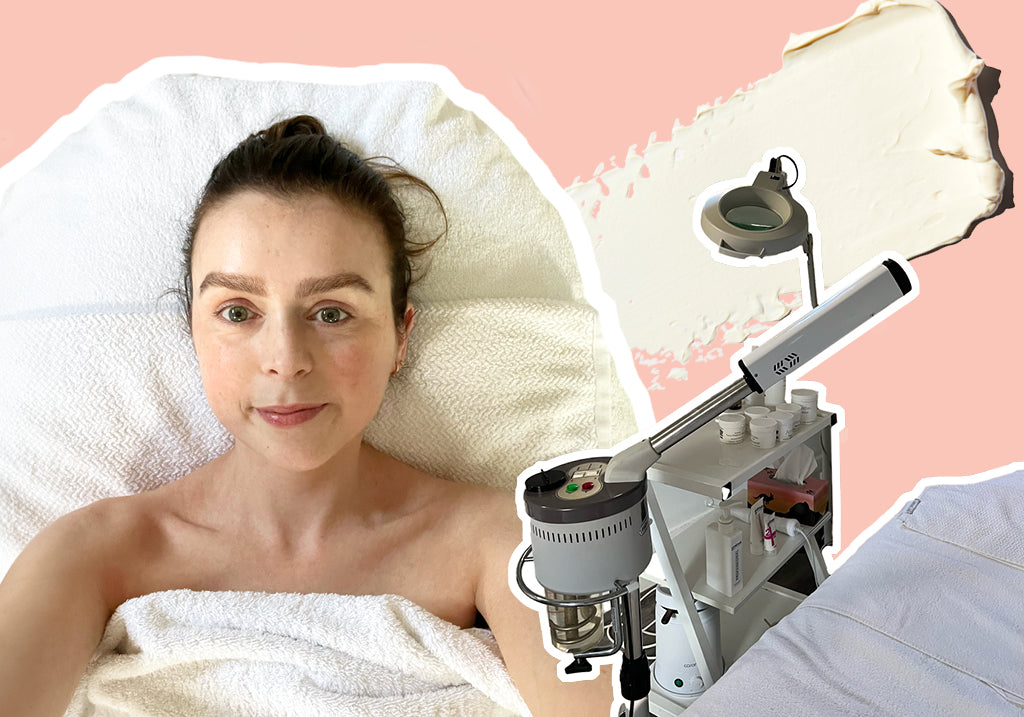 I know, I know, it's a tough gig. But someone's gotta do it! I've taken one for the team and paid a visit to Zoë Foster Blake's facialist here in Sydney, the skin expert, Natasha Tchernobryvko.
European-trained, Natasha has been perfecting her facial practice for the last 25 years, determined to make complexions more beautiful with bespoke, individually tailored treatments. As described by the expert herself, "my facials are always very individual. I always create my facial based on what the person needs, depending on their skin type, age, concerns and how they're feeling today." 
On a wintery weekend, I took myself to her Double Bay studio, and here's exactly how it went. 
Initial consultation
To start, we had a chat about how my skin was feeling that day, what my current skin concerns were, what products I'm currently using, and any skincare goals I'm striving for. These details (along with her examining my skin) help determine what the rest of the session will look like. 
My goals: Boost hydration, and even/brighten skin tone.  
Deep cleanse 
First up! My skin was deeply cleansed to melt away any sunscreen, dirt, sweat and/or makeup that had accumulated during the day. Throughout the facial, every product was applied with decisive massage techniques that not only felt incredible, but were purposeful in stimulating and sculpting the skin. 
Exfoliation 
Natasha has three types of exfoliators (physical, enzyme, and chemical) in her arsenal for different skin types, sensitivities and goals. In this facial, Natasha used a gentle physical exfoliator for sensitive skin. This was softly massaged into my skin. Despite being physical (at Go-To we're huge advocates for chemical exfoliants), it didn't feel too harsh or grating. During this step, the steamer was also turned on, lightly blowing steam onto my skin. This was brought down my neck, decolletage and arms (as was the whole facial). 
Hydrating mask and massage 
Probably my favourite part of the facial, while the steamer was still going, a cooling, hydrating mask and facial oil were applied to my face, and down my neck, decolletage and arms for a delightful twenty minutes. 
Over the years, Natasha has studied quite a few massage techniques and adapts these to suit each individual client's skin. For me, Natasha applied remedial massage techniques to stimulate blood circulation, release muscle tension, and lymphatic drainage to decrease puffiness (yes please!). 
This sparked a conversation with Natasha about the buccal massage technique (you might have heard about it on TikTok). This is where the massage is intraoral, performed from the inside and outside of the mouth. It's an advanced technique that releases facial tension, and lifts (hello jawline!). It's great for people who grind their teeth, carry stress in the lower jaw, or want a pre-party "facelift". 
Extractions  
Renowned for her specialised extractions, I was prepared for a few. Slightly uncomfortable, but manageable, my clogged pores and blackheads were banished in just 5 minutes.
Electrotherapy High frequency
Now for the intense part. A high-frequency wand was carried over my skin. 
The science-y explanation: When the wand is applied to the skin, a small electrical current passes through a gas-filled glass electrode, causing it to make a light buzzing noise. Enriched oxygen molecules are produced and create a natural thermal tissue warming, promoting skin cell renewal and supporting increased levels of collagen and elastin. Nice! 
I must admit, this is a less pleasant part of the facial, but it doesn't last long. It sounds like an electric razor and feels like teeny tiny little electric currents touching your skin. It's not at all painful, but compared to the luxurious massaging prior, it's not going to be the most relaxing part, but you can guarantee this will be getting you the results. 
Vitamin c serum 
Seeing as I mentioned pigmentation as a key skin concern of mine, Natasha worked in a vitamin c serum to even skin tone and manage pigmentation. 
Rejuvenating mask 
A calming, rejuvenating mask was then applied. Again, massaged into the skin, sending me back into an almost too relaxed state. 
White French Clay Mask 
The second last step was a soothing peel-off mask. It felt pleasantly cold and thick while being painted onto my skin, before slowly solidifying. By solid, I don't mean a face-cracking-clay-feeling, more like a generous layer of "solid slime" (in a nice way). Certainly an interesting sensory experience! The clay mask worked to even skin tone and sat on my skin for about fifteen minutes. 
Hydrating cream
To finish, Natasha applied a lush hydrating cream. (No sunscreen was applied as it was now 5PM and getting dark.) I was instructed to not wash my face, to let all the products sit on my skin, and work their magic overnight. 
Final thoughts
Overall, I paid $210 for an extremely delightful one-hour experience.  I left feeling relaxed, glowy and fresh. My skin stayed dewy up until I went to bed that night and I can even confirm unprompted skin compliments were received come Monday, from fellow Go-To HQ girls. A success!  
Results
Salon: 8/10
Products: 9/10
Relaxation: 10/10
Post-facial skin: 11/10