How Face Hero Works With Every Face
Less than 3 minutes / January 19, 2023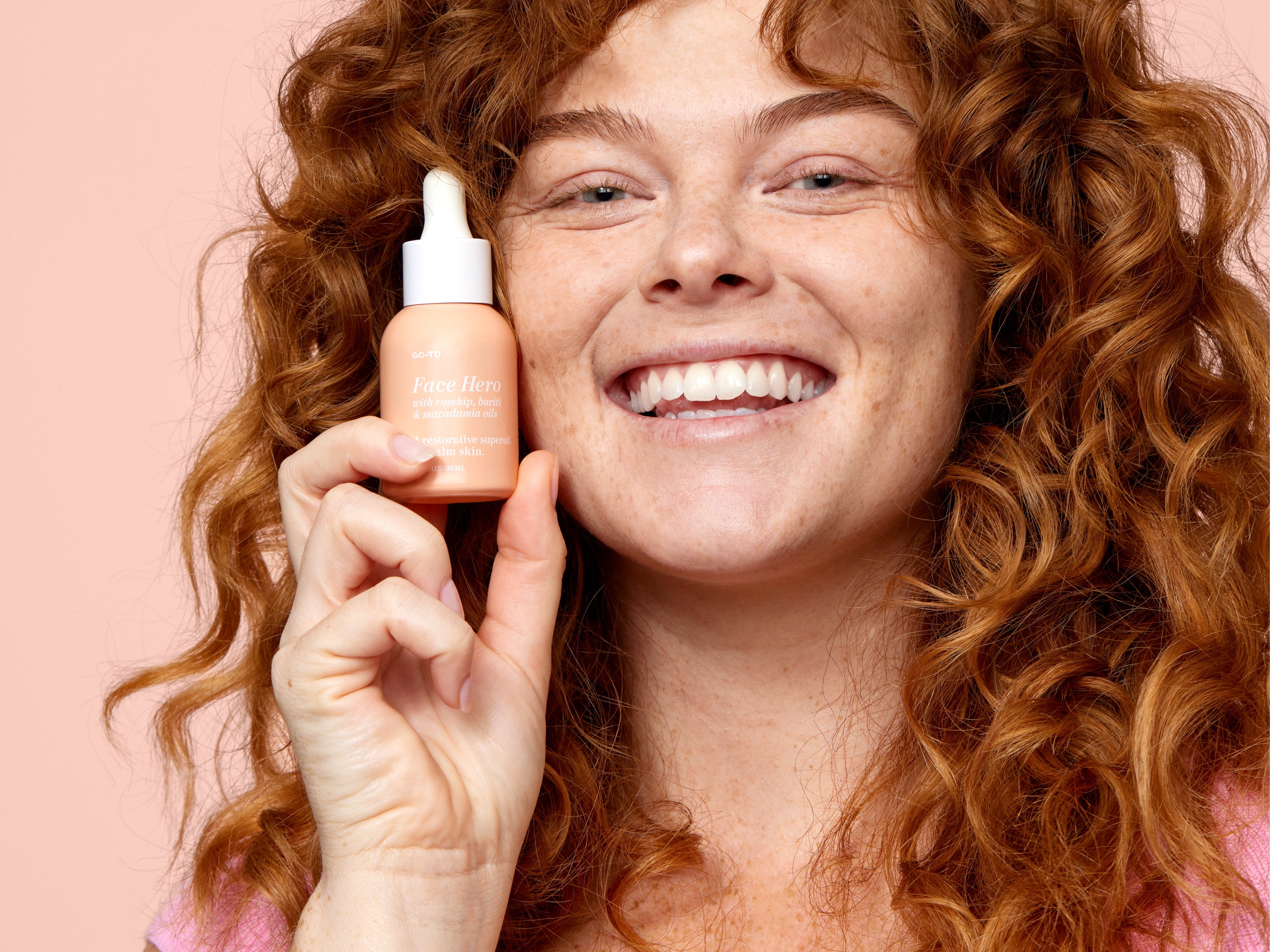 There's a bloody good reason Face Hero continues to sit atop the Go-To bestsellers list (many many reasons if we're being humble) (which we're not), because it truly nourishes every unique face. A mix of 10 formidable plant and nut oils, like jojoba, macadamia, brazil nut, rosehip, that deeply hydrate and soothe for super happy skin, day after day. 
To talk to her 'heroness'... She's lightweight enough to balance compromised or oily skins, and nourishing enough to restore very dry, dehydrated or mature skin. We also poked and prodded her before adding to the shelf and can confirm she passed the suitable for sensitive skin (dermatological) test with flying colours. So if your skin is easily irritated, this too is the facial oil for you. 
Why do you need facial oils in your skincare routine?
Put simply, they act as a bodyguard, locking all the products in place underneath to allow them to effectively penetrate the skin, while keeping environmental pollutants out. 
When a facial oil is applied as the very last step (only if you're a Very Lightweight user-er, Very Useful Face Cream stans you oil before, more on that here) it also seals in all of the hydrating ingredients so you can feel juicier for longer. The perfect base for a luminous makeup look. 
So how exactly is every skin type going to get that glow? Listen in. 
I'm oily!
Who's shiny, prone to blemishes, and well acquainted with congestion? You are! Oily skin happens when the skin overproduces sebum, usually because you're naughty and have been overdoing it with cleansers, exfoliants, and too much cheese. A whiff of thirsty skin and the body will try to fix this naturally (hence the overproduction of sebum). 
The oils that face oils are made with are completely different to those produced by the skin. Which means they aren't going to add more oil, but instead, work to hydrate the skin. 
I'm dry!
Nice to meet you, you sometimes flaky fellow. This kinda face can be properly looked after by introducing oils and avoiding anything too harsh; we do not want to strip the skin. Generally speaking dry skin may struggle to produce oil, so a rich yet lightweight facial oil like Face Hero is going to make up for what's not occurring naturally. 
I'm sensitive! 
Ahhh the kind that needs a little more TLC than the rest of us. If you have sensitive skin, you're going to want to reach for a facial oil that is high in antioxidants. You betya, Face Hero is jam packed with them. Ingredients like buriti oil and rosehip oil have an anti-inflammatory response, and help to reduce redness, roughness, and irritation. 
I'm mature!
Fine, we'll treat you as such! As we gracefully age, the natural production of oils in the skin declines significantly, which makes it harder for our skin barrier to maintain optimal health (cannot wait…). Lack of oils can lead to dry skin, and dry skin is more prone to both irritation and inflammation. Incorporating facial oils rich in vitamins and essential fatty acids will help to prevent water loss and ensure your skin remains replenished daily.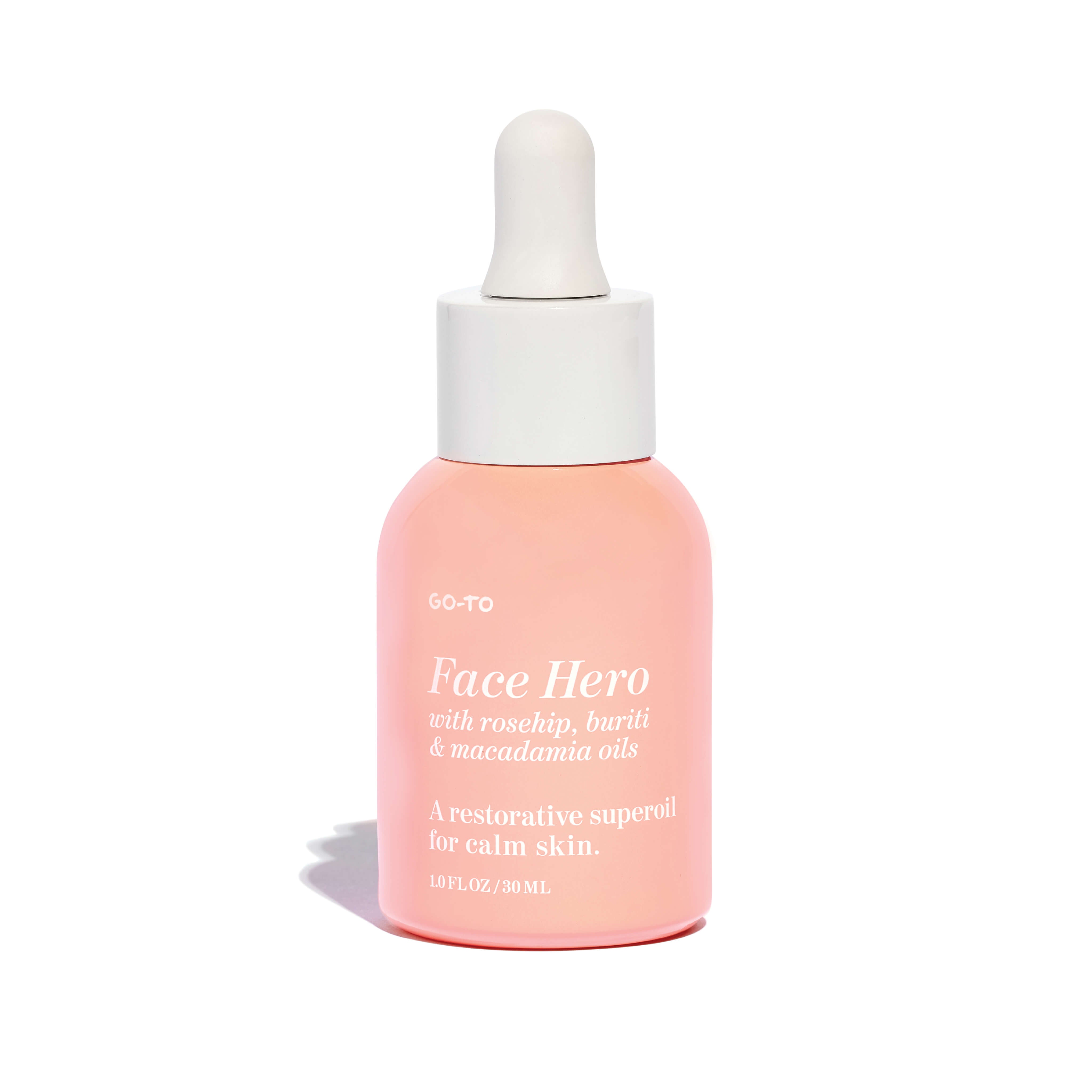 30ML / 1 FL OZ
Face Hero is a terrifically powerful, fantastically lightweight face oil that deeply hydrates, soothes, revitalizes, balances, and protects. (Overachiever.)