Hiding Dark Circles, And Other Tired Face Fixes
Megan Kelly
Less than 3 minutes / May 11, 2023
We're in the fast lane, headed straight towards summer, and I'm worn out just thinking about the commitments ahead. Festivals! BBQs! Vacations! It's fun. But also very exhausting. On the body, mind, and skin. 
To make sure I don't look exhausted, here's everything I'll be doing to save my sleepy skin.
Dark Circles
Dark circles are an all-year-round battle for me, but the silly season definitely exacerbates them. To figure out why that is, I turned to dermal therapist/skin wizard, Yadira Cauchi.
"Dark circles are due to the layer of skin under our eyes being very thin making the blood vessels beneath more visible," Yadira explains.
"Genetics play a big role when it comes to dark under eye circles," Yadira tells us, noting that a few other common factors include: age, lack of sleep, and even our stress levels.
If dark circles are also something you're looking to target, Yadira suggests adding an antioxidant-rich eye cream. "If you're not keen to go down a cosmetic path I'd look for an eye cream that contains vitamin c as this is an antioxidant that can help with collagen production to improve the skin's elasticity," she suggests.
Makeup is also a clever, quick way to counteract any under eye darkness. Blending a tiny amount of a peachy coloured corrector (my personal favourite is this guy from Tarte) over dark circles will do so much of the heavy lifting. Finish off with a creamy concealer that matches your skin tone over the top to blend in with the rest of your face and admire your handiwork in the mirror. Magic!
Puffy Eyes
Puffy eyes - often caused by lifestyle factors such as sleep (or lack thereof), alcohol, stress, diet.
If you know you're going to have a late night or an early morning, pop a couple of teaspoons in the freezer. Those are going to come in handy tomorrow if you wake up with puffy eyes.
After you've applied your AM skin care, press your pre-prepared chilled spoons against the skin under your eyes. Hold those for a few minutes and remove.
Dullness
To bring skin back from a dull, lifeless state, I tend to lean on a clever combo of replenishing skin care and brightening makeup.
First, let's juice up your skin! Give your skin a quick cleanse (an oil cleanser is a clever way to give your skin a bit of extra hydration if you need it), and then right onto a sheet mask. Look for one with ingredients like niacinamide and hyaluronic acid which are a potent combo to plump and boost radiance. After 10 minutes, remove your sheet mask, pat in the excess serum, and follow on with a lush moisturiser (and a face oil, if you really want to layer up on glow).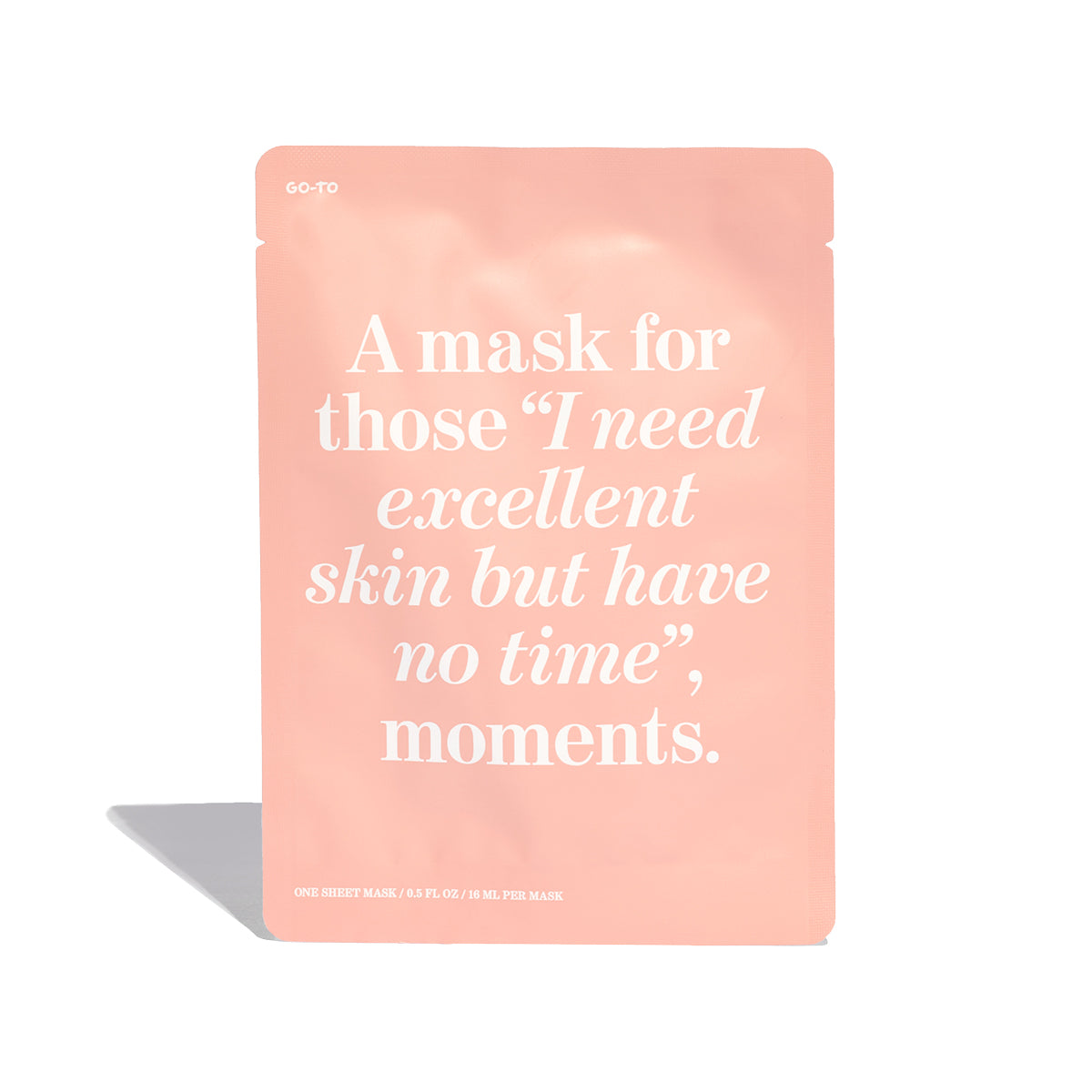 One sheet mask
Transformazing is a serum-drenched sheet mask that transforms your skin into very amazing, very glowy, very luminous skin in just 10 minutes.
Once the skin's sorted, you can finish off defeating dullness with a splash of makeup. Day-to-day, I like to keep things simple (read: I'm lazy and want something fast and easy) so I like to stick to something glowy for the base (Charlotte Tilbury Flawless Filter is a solid 15/10 for instant radiance), a touch of concealer, some cream blush, and a tinted lip balm. It only takes a few minutes but adding a touch of colour back into my sleep-deprived face always makes a huge difference.