Help! What's The Difference Between Very Lightweight Moisturiser, Very Useful Face Cream, and Very Luxe Face Cream?
Less than 3 minutes / May 30, 2023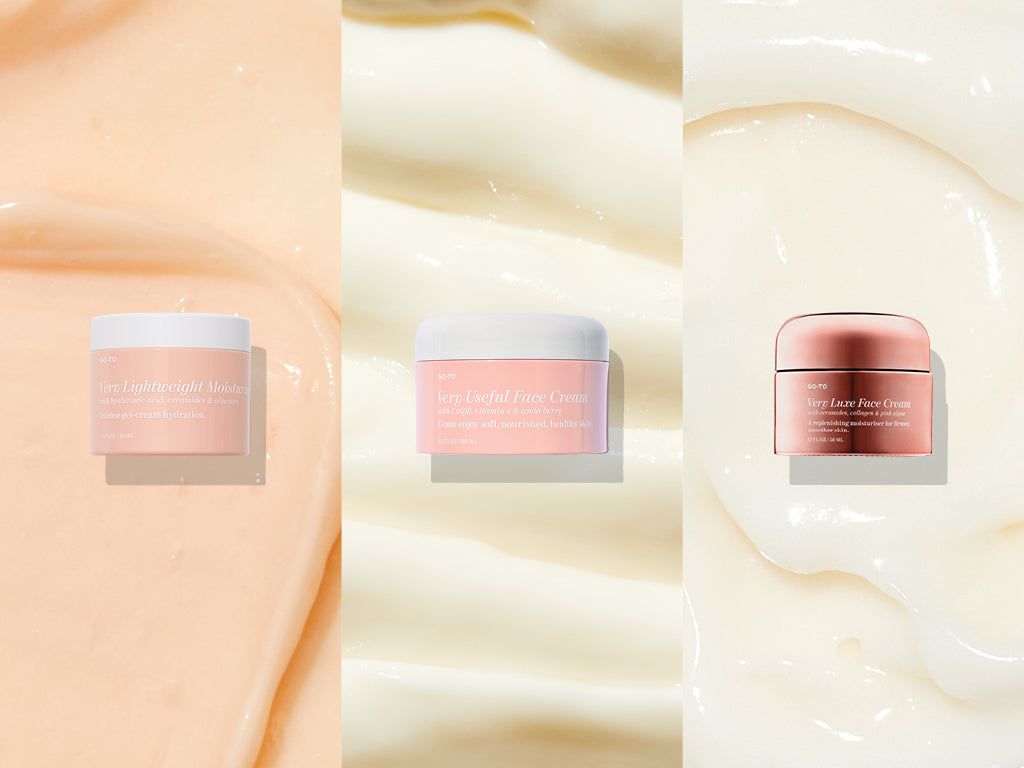 We didn't make three moisturisers because you need to be using three moisturisers (sounds super sweaty, tbh). Rather, each of these formulas have been expertly designed to nourish a particular skin type and treat a particular skin concern. 
Moisturiser is not one size fits all. So let me break it down. 
Very Lightweight Moisturiser 
Your skin type: oily or combination
Primary skin concerns: acne and congestion 
Ideal sensory: bouncy, airy, gel-cream
A moisturiser made for people who don't like moisturiser, or typically find traditional face creams too heavy on the skin. Very Lightweight Moisturiser is a water-based (oil-free) formula which sinks seamlessly into the skin, doesn't leave a heavy residue, and therefore minimises the pore-clogging potential that tends to come with oilier skin types. 
Containing Clover Flower Extract which is a natural pore minimiser designed to rebalance skin issues that cause enlarged pores, it does this by preserving the skin barrier and helping to regulate excess sebum (oil) production. Clover Flower Extract also contains a high content of flavonoid - Biochanin A - that is known to reduce inflammation and act as an antioxidant. Hyaluronic Acid and Aloe Vera Juice provide long-lasting hydration without shine, because remember, oily skin needs hydration too, it's actually very often dehydrated. 
Very Useful Face Cream
Your skin type: dry 
Primary skin concerns: dehydration and sensitivity
Ideal sensory: thick, rich, buttery
Made with thirsty and dry skin types top of mind, Very Useful Face Cream is for faces seeking some extra moisturisation and/or immediate relief (thanks to its cocooning and occlusive feeling post-application). Much heavier in texture, this moisturiser repels water rather than attracting it, so think of it like a seal, holding in all the hydration you've just pumped into the skin. 
The rich natural butters (shea and mango) are deeply nourishing and help to replenish dry skin. Loaded with hydrating oils too, almond, avocado, apricot to name a few, the face is fed an array of essential fatty acids and vitamins that help to soften the skin. Big day of sun exposure? Windy run on the slopes? Long haul flight coming up? This is your face cream. 
Very Luxe Face Cream
Your skin type: dry 
Primary skin concerns: fine lines and ageing
Ideal sensory: luxe, velvety, smooth
Clinically proven to create firmer, softer, plumper skin, Very Luxe Face Cream is the moisturiser for mature (dry and thirsty) faces. Though perfectly suitable for any skin type, age, or stage. It's a really lush moisturiser, the latest to join Go-To's growing suite, and the most sophisticated formula of the three. 
Incorporating pink algae extract which is known to improve the appearance of skin redness, roughness and pigmentation, we've also packed in vegan collagen (from renewable plant sources) to help bolster skin elasticity, and leave the face feeling light and lifted. Kangaroo Paw flower extract is proven to rapidly decrease the visibility of wrinkles with consistent use, providing a smoothing effect over time, and three types of ceramides work to prevent moisture loss and fight signs of dehydration. 
You might be someone who likes to switch up moisturisers AM and PM. You might also opt only for a hydrating broad spectrum SPF in the morning. You know your face best! 
If your skin isn't comfortable with too much layering, a couple of creams on creams, just jump straight to the sun protection. (Don't dare skip that step.)